$39.99
Waxmaid Nectar Collector is our #3 Top Seller! Over 190,000 pieces sold. 
Waxmaid Nectar Collector is perfectly designed to be used with BHO, wax or essential oil. It has a built-in slitted percolator, that provides excellent filtration and ensures you get a very clean hit every time, allowing you to get the most out of your concentrates.
Features
Waxmaid Nectar Collector is made of Platinum Cured Silicone material, its 

safety level is definitely higher than the FDA approved ones.

Nectar collector comes with a mouthpiece and a

titanium

steel stick, assemble them together to enjoy a smooth dab, convenient than any other piece.

Waxmaid Nectar Collector's flexible silicone body connects a thick glass smoke chamber that helps to check out the smoke volume clearly.

Silicone glass hybrid design is easy to disassemble and clean, portable to go everywhere.
5 beautiful colors available.
Waxmaid's original patent design, not cheap copied products!
What's included

One Nectar Collector
Two wax containers
A dab tool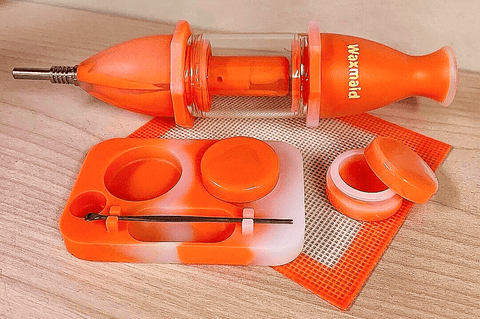 How to Clean Waxmaid Nectar Collector?
Washing Nectar Collector pipe with alcohol/suds/hot water/lemon juice, or brush it with toothpaste, your smoke piece will be shining bright and clean as new!

Due to the impact of COVID-19, this item's shipment may be delayed to 2nd June EST, limited stock, first come, first served!