Waxmaid Nectar Collector is our #3 Top Seller! Over 190,000 pieces sold. 
Waxmaid Nectar Collector is perfectly designed to be used with BHO, wax, or essential oil. It has a built-in slitted percolator, that provides excellent filtration and ensures you get a very clean hit every time, allowing you to get the most out of your concentrates.
Features
Waxmaid Nectar Collector is made of platinum cured silicone material, its 

safety level is definitely higher than the FDA approved ones.

Nectar collector comes with a mouthpiece and a

titanium

steel stick, assemble them together to enjoy a smooth dab, convenient than any other piece.

Waxmaid Nectar Collector's flexible silicone body connects a thick glass smoke chamber that helps to check out the smoke volume clearly, you can add water and keep water in the glass 

percolator 

without spilling, the glass percolator allows you to have the advantages of water filtration like a dab rig but keep it portable, and brings you bigger hits while still keeping smooth hits. 
Silicone glass hybrid design is easy to disassemble and clean, portable to go everywhere.

6 beautiful colors available - Rasta, Pink cream, Blue white green, GID green, Black red, Translucent orange.

Waxmaid's original patent design, not cheap copied products!
What's included

One Nectar Collector
Two wax containers
A dab tool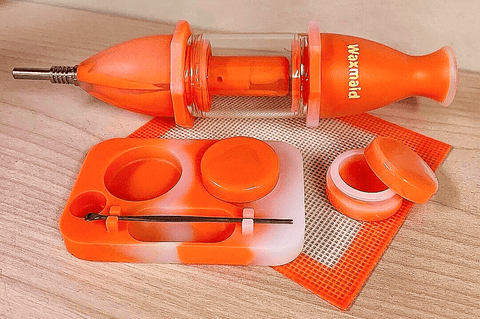 How to clean Waxmaid silicone glass Nectar Collector?
1. Disassemble the glass chamber from Waxmaid Nectar Collector.
2. Put the glass chamber into a storage bag.
3. Pour the alcohol of 70% concentration or higher in the storage bag, together with some coarser salt.
4. Shake up the storage bag until the water changed to a dirty brown.
5. For the silicone part of the Waxmaid Nectar Collector, you can brush it with dish soap by a banister brush, or put it in the dishwasher, silicone is 100% dishwasher safe.