$39.99
Waxmaid Horn is our #1 Top Seller!
Waxmaid Horn silicone glass water pipe is the first and most popular evolved water pipe smoking rig made of quality glass and platinum cured silicone in the smoking industry. Over 250,000 pieces sold and still counting since the first launch of Waxmaid Horn water pipe! It's our fam's most loved dab water pipe! People just can't get enough of this beauty!
Features
What's Included
Waxmaid Horn

 

s

ilicone 

g

lass 

w

ater 

p

ipe*1

14mm male joint glass bowl*1
How to Clean Waxmaid Horn Mini Silicone Glass Water Pipe?
1. Take apart your water pipe--Take out the glass bowl or banger from your water pipe, take off Horn's silicone sleeve as well. 
2. Rinse Horn water pipe's glass chamber with hot water several times.
3. Pour the alcohol of 70% concentration or higher in your Horn glass water pipe when the pipe is still warm and hot.
4. Then pour some salt into the water pipe via its mouthpiece, the coarser the salt, the better.
5. Cover the mouthpiece and slide hole with your palms, hold it tight and carefully, shake it up until the water changed to a dirty brown.
6. Pour the dirty water down the sink.
7. Using the same method to clean your glass bowl or banger by putting them separately into storage bags, add alcohol and salt, then shake it up till you are satisfied that the piece is clean.
8. For the silicone sleeve of Waxmaid Horn water pipe, you can brush it with dish soap by a banister brush, or put it in the dishwasher, silicone is 100% dishwasher safe.
Design Manuscript of Waxmaid Horn Water Pipe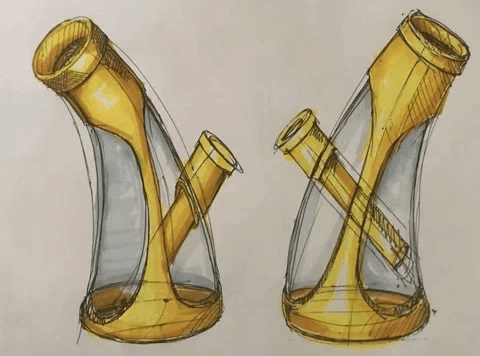 Click HERE to check more details of Waxmaid Horn Mini