$69.99
Description

Waxmaid Crystor S transparent silicone double percolator water pipe is made of Platinum Cured Silicone material. It's certified "food safe" for culinary applications and the safety level goes above and beyond FDA approval standards. It's

 solid, durable, and safe to use directly.

Dual percolator design helps the smoke to circulate through the main chamber several times, cooling it down before inhaling into the lungs, 

providing consistently excellent hits.
Waxmaid Crystor S double percolator water pipe has a transparent chamber body, making smoke volume visible when taking tokes.
The ergonomic bent neck mouthpiece design makes the water pipe much more convenient to use.

The base is made of high-quality transparent silicone, which 

helps you to check out the smoke volume and water clearly.

There is a strong magnet on the downstem for collecting your lighter / dab tools.



The suction base design prevents your water pipe from being knocked over.

Waxmaid Crystor S is a honeycomb percolator water pipe, it built with honeycomb perc inside, making the bubbles finer as the smoke enters the transparent base chamber, providing a better smoking experience.


6 distinctive colors available

 - Rasta, Pink cream, Blue white green, GID green, Black red, Translucent orange.

Waxmaid original patent design, any similar models on the market are copied products!
How to use Waxmaid Crystor double percolator water pipe? 
Please assemble the honeycomb percolator into the base chamber as shown in the video before adding water. Add water to the base chamber from Crystor water pipe's downstem, and add water to the top percolator/filter from the mouth tube to start your sesh.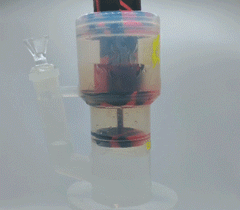 What's included
Waxmaid Crystor S transparent silicone double percolator water pipe comes with a 14mm glass bowl and a glass adapter. 

What's included
Waxmaid Crystor S transparent silicone double percolator water pipe comes with a glass adapter and a 14mm male glass bowl.
How to clean Waxmaid Crystor series silicone water pipes?
The best time to clean a greasy water pipe is having it cleaned immediately after use when the resin is still soft, and you only have to deal with a thin buildup. 

Silicone water pipes are completely dishwasher safe, you can put the whole Crystor S silicone water pipe in your dishwasher.
Boiling the silicone water pipe is no problem and won't damage or harm the material, then brush it with dish soap after boiling, scrub to get resin out of your water pipe.
Freezing is much more effective and much easier to accomplish because of the flexibility and durability of the silicone. Simply throw

 

Crystor S

in the freezer for a couple of hours, letting all the gunk get good and frozen on the sides. Due to the fact that silicone water pipes are flexible, once you take it out from the freezer, you can bend, squeeze it to de-gunk. 

 

We don't recommend use alcohol to clean silicone water pipes as alcohol may be harsh on the silicone over time.