An odorless quality glass chamber and unbreakable safe silicone sleeves made Waxmaid Horn mini a cool durable tobacco smoking rig.
Waxmaid Horn mini silicone glass bubbler is made of platinum-cured silicone material, it's certified "food safe" for culinary applications, the 

safety level ranks higher than FDA approved ones.
For the design, 

Waxmaid Horn mini is durable and aesthetically-pleasing, its 

flexible silicone body surrounds a thick glass water chamber that easily pops in and out for quick filling and cleaning without leaking out. The combination of silicone and glass design not only solves the problem of easily broken glass water pipes but also make smoke volume visible in smoking rigs.

Waxmaid Horn mini silicone glass bubbler is

an upgraded version of Horn bubbler, the smaller size makes it perfect for hikes and adventures.




6 distinctive colors available

 - Rasta, Pink cream, Blue white green, GID green, Black red, Translucent orange.

Waxmaid's original patent design, not cheap copied products!
What's included
Waxmaid Horn

 mini 

s

ilicone 

g

lass

bubbler

*1

14mm male joint glass bowl*1
How to Clean Waxmaid Horn Mini Silicone Glass Bubbler?
1. Take apart your bubbler--Take out the glass bowl or banger from Horn mini bubbler, take off Horn's silicone sleeve as well. 
2. Rinse Horn bubbler's glass chamber with warm water several times.
3. Pour the alcohol of 70% concentration or higher in the glass chamber when it's still warm and hot.
4. Then pour some salt into the glass chamber via its mouthpiece, the coarser the salt, the better.
5. Cover the mouthpiece and slide hole with your palms, hold it tight and carefully, shake it up until the water changed to a dirty brown.
6. Pour the dirty water down the sink.
7. Using the same method to clean your glass bowl or banger by putting them separately into storage bags, add alcohol and salt, then shake it up till you are satisfied that the piece is clean.
8. For the silicone sleeve of Waxmaid Horn mini bubbler, you can brush it with dish soap by a banister brush, or put it in the dishwasher, silicone is 100% dishwasher safe.

Design Manuscript of Waxmaid Horn Bubbler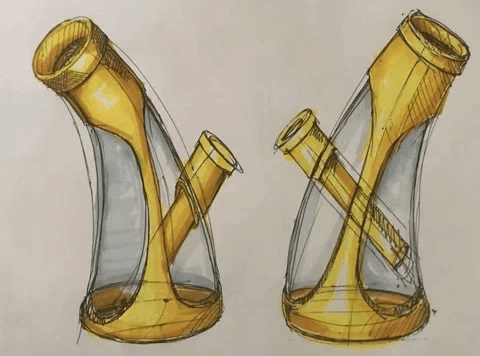 Click HERE to check more details of Waxmaid Horn Bubbler